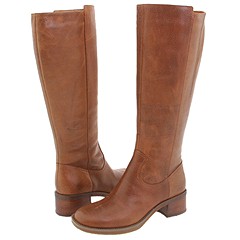 Canadians Click Here
These boots are exceptional. I ordered them from Zappos.ca and they were at my door within 5 business days. I searched everywhere in Canada for these, but to no avail. However, when you buy them from Zappos they include all taxes and duty in the price. So, no surprises at the border. From my experience the general rule is 18% plus taxes all taxes from your Province.
Rockport Ainly. The all leather top fits perfectly over my size 9 1/4 foot and 17.5" circumference calf. I love the colour and they are tall enough to look awesome with skirts. I'm 5'8" and the boot shaft end just below the knee and actually accentuates the leg. I ordered a 9.5 Wide and
$136 plus taxes and duty. Under $200 total.
Comfy straight out of the box. And it has a removable insert, perfect for those with orthotics.
Available in black too for $152.